Coach Education is a key component of Squash Australia's Development Plan. Coaches at all levels play a crucial role in ensuring that squash is an enjoyable experience for everyone, as well as laying the foundation for the development of better players.

Squash players can be divided into two streams: those that are playing for fun, and those that are playing to reach the highest level possible. These are often referred to as 'participation' and 'performance'.

In Australia, we have labelled these two streams as High Performance and Foundation. To reflect the two streams and better meet their differing needs, our Education Programs have also been divided into these pathways.

Squash Australia, in conjunction with the Australian Institute of Sport (AIS), has developed a new framework to capture these different pathways and address the current shortfalls in applied research and practice specific to athlete development. It is called FTEM.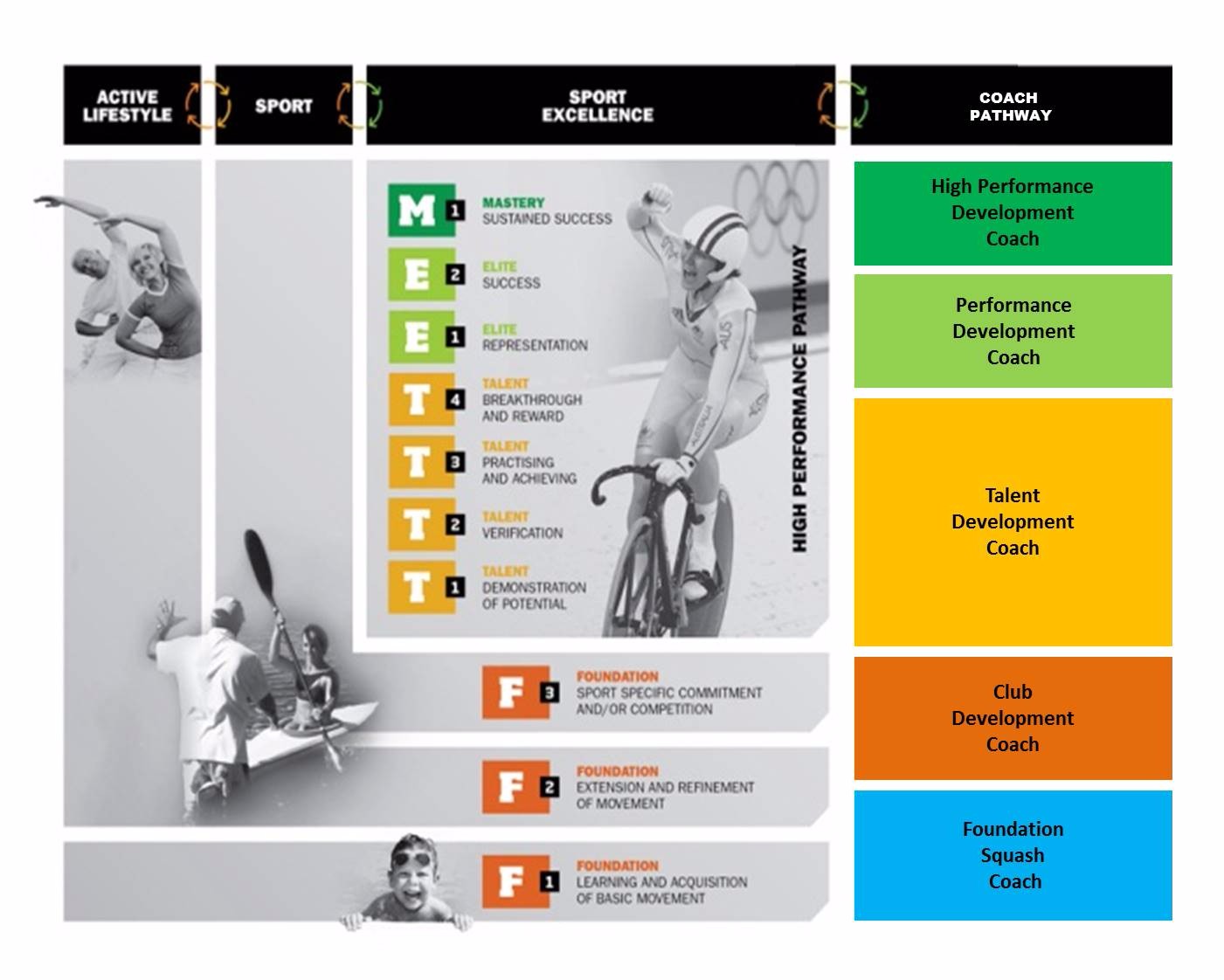 FTEM (representing Foundations, Talent, Elite and Mastery) is a user-friendly framework of
sporting development that is representative of the 'whole of sport' pathway continuum.
It integrates three key outcomes of sport participation: active lifestyle, sport participation and sport excellence. It provides a practical method to assist all squash stakeholders to construct a more functional athlete and sport development system.
The FTEM framework can be used as a practical planning and review tool for a
broad range of sporting stakeholders including parents, teachers, clubs, coaches, sports science and sports medicine personnel and the elite level squash programs. This enhanced understanding of the squash pathway will help us to improve the experiences of more people, at more levels of the pathway, more often.

| | | | | |
| --- | --- | --- | --- | --- |
| LEVEL | COST | DURATION | PATHWAYS | RE-ACCREDITATION FEE |
| Foundation | $99 | 4 Years | Foundation, Tutor & High Performance | $39 |
| Club Development | $299 | 4 Years | Foundation, Tutor & High Performance | $49 |
| Talent Development | $699 | 4 Years | Foundation, Tutor & High Performance | $59 |
| Performance Development | $1999 | 4 Years | Tutor & High Performance | $69 |
| High Performamce | $2499 | 4 Years | High Performance | $79 |
Select a section