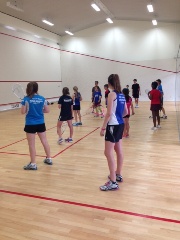 If you are, or have, a child under the age of 19 then they should get involved in one of the world's healthiest sports, squash.
Squash is not only great for your health but a great atmosphere to learn new skills, improve hand-eye coordination and play in a social atmosphere to make new friends.
Squash SA currently provide several different ways in which juniors can participate in squash which include:
Junior Club Programs
High School Competitions
Junior Tournaments
Development Squads
State Team selection.
For more information on our Junior Squash contact your local Club or Squash SA on 8277 2522 or squash@squashsa.asn.au